Why do we offer lily of the valley on May 1st?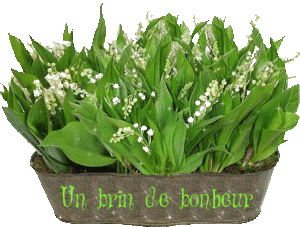 May 1st is the Labor Day but also the Lily of the Valley Festival. Every year the tradition wants that we offer a few sprigs of this little flower to his relatives, his friends. Lily of the valley is a symbol of absolute purity, fragility, spring. But the most important thing is that it symbolizes happiness.
The tradition of May 1st was introduced in the 16th in 1560 when the King of France Charles IX was offered a sprig of lily during a trip in the country. He appreciated so much this gesture that from the following year he decided to offer one to each lady of the court.
In France May 1st is the only public holiday that is compulsorily paid.

Christian Dior's favorite flower, lily of the valley inspired the fashion house that made it its emblem, a small flower that continues to bloom on the creations.
May 1st is in France the only day of the year where the street sale is allowed. Everyone can sell lily of the valley.
In France at least 5 million sprigs of lily of the valley will be sold on May 1 which represents about 28 million euros.

Have a good May 1st and lots of happiness.